Outfit Your Man Cave Game Room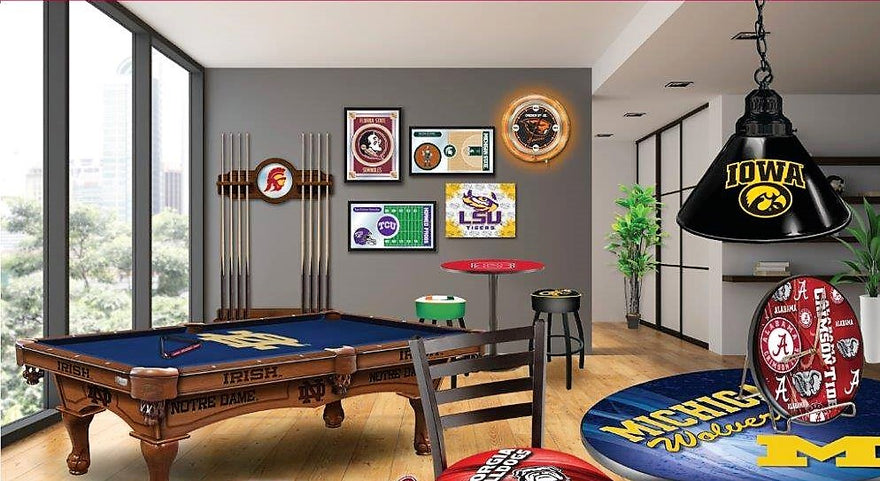 Game Room
To outfit your Man Cave, you will need at least one or more of the following items; pool table (available with your preferred custom team logo) , poker room card table , or perhaps a shuffleboard table. Shuffle board tables, in particular, are experiencing a resurgence in home consumer popularity. Man Cave Boutique specializes in carrying a line of licensed logo game room products including dome hockey, foosball tables, shuffleboards, and of course our high quality pool tables. Our game room tables are manufactured in the USA (Holland, Michigan). and are constructed of 100% solid hardwood, no MDF ! Logos include the NHL, NFL, NBA, MLB, US Military, US Colleges (130), Indian Motorcycle, Corvette, Camaro, and even Rock Icon Jimi Hendrix. Man Cave Boutique also carries a variety of Game Room Lighting fixtures as as well as a line of Billiards Room Logo Lighting Fixtures with a choice of your favorite sports team logo.
Furniture
With the exception of a big-screen TV, the No. 1 essential furniture item for your Man Cave and Game Room is a quality recliner chair . The tradition of a man drinking a beer on his recliner in his Man Cave is eternal. However, the modern Man Cave has evolved and you need comfortable and adequate seating for everybody. You can also add a sectional, a huge leather couch, multiple recliners, theater seating configuration, or even a multi-function electronic massage chair. Shop here for Man Cave Boutique's home theater seating products .
Bar Equipment
A Man Cave should be self-contained and convenient and so you should not need to go into the main living areas of the house to get a drinks or food, etc. Install a bar in your Man Cave garage. You could build a custom bar to fit your space or shop online for a variety ready-made bars and have it shipped to your front door. A refrigerator is the No. 2 essential item all Man Caves require. Make sure your bar has the required space and electrical outlets for a mini fridge, kegerator (beer keg dispenser), or an ice maker. We also carry a line of ready-made home bars and cabinets as well as licensed logo pub tables and bar stools. For your pub tables and bar stools, search for your choice of logos including US College teams, the NHL, US Military, Ford, Corvette, and Jack Daniels's and make your Man Cave truly unique. Shop Man Cave Boutique's bar equipment and accessories.  
Sports Memorabilia, Wall Décor, and Flooring
No Man Cave can be complete without some sports memorabilia and wall decor. A beautiful neon clock with your favorite a sports team logo will light up your wall and will also provide character and a unique ambience for your Man Cave space. A variety of wall mounted neon signs with brand name logos are available at Man Cave Boutique. Check out Man Cave Boutique's Wall Decor products here .
And finally, every Man Cave should feature a custom rug or mat or even special tile flooring as a focal point. Choose your favorite brand name logo from one of your favorite college or professional sports teams, the US Military, and even the auto industry brands, for display on your rug or floor mat. As an alternative, you can consider interlocking tile flooring (18"x18" carpet tiles)  imprinted with your favorite team logo to create the ultimate sports fan Man Cave. Check out the cool flooring options offered at Man Cave Boutique.