Create a Cool Man Cave Garage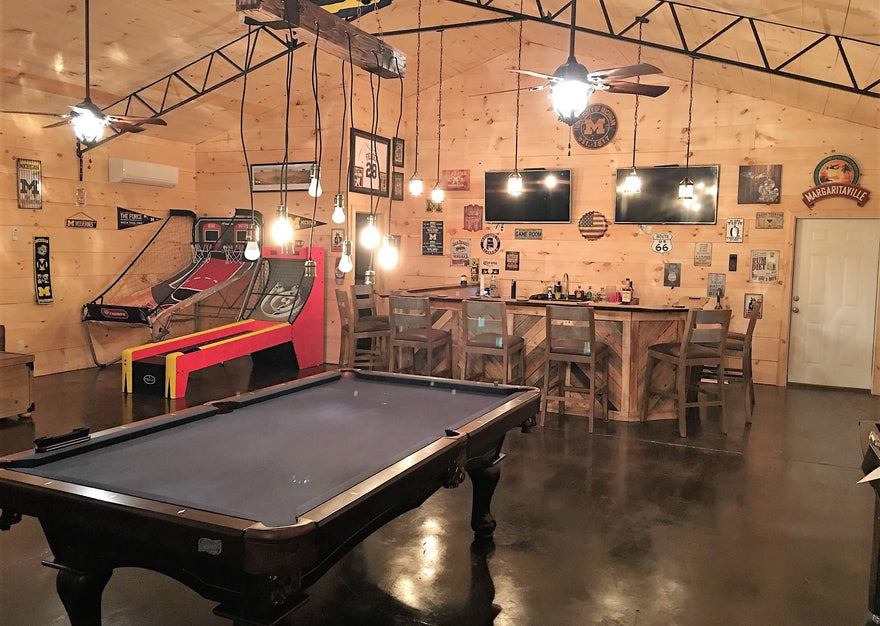 We here at Man Cave Boutique are quite certain that our customers will tell you that having an ultra cool Man Cave Garage is very therapeutic. You will also surely be the envy of all your friends. A Man Cave Garage , in particular, can be a much less formal and relaxed atmosphere that will provide you with your own private oasis when you are looking for solitude or to relieve your daily stress. You can have tables and chairs that fold up and even a portable home bar that can be moved out of the way to storage for when you might want to park your car inside the garage at some future date. When you feel like entertaining, you can set up the bar and invite your friends over to watch the Sunday NFL Football games on your big screen TV or perhaps enjoy your regularly scheduled poker game with the boys. With a little design planning and motivation, you can convert and remodel your garage into your own special dream Man Cave. To make the space livable year round, you may want to have it insulated including the walls, ceiling, and garage door. The interior of garages are not normally built with any design flair. 
Most garages have one light installed, but when you're hosting poker night or other evening social events , you need to light up the room. Use lighting fixtures that express your own personal style. For an industrial look, choose pendant lights that go with the color scheme. For a more contemporary look, choose recessed lights. In any case, hire an electrician for the hard-wire installation. For your accessory lighting needs, Man Cave Boutique carries a selection of lighting products, including game room lighting, neon lighting, and pool table lighting.
The standard garage bare concrete floors are not ideal for a Man Cave. Alternatively, you could utilize a sports themed area rug. But if you really want your Man Cave to be practical, durable, as well as attractive , then choose an interlocking vinyl tile flooring option. This flooring tile comes in many sizes, patterns and colors, and does not require glue, or a professional installer. Home Depot or Lowes will have the garage flooring product that you are looking for.
So if you do not have the recreation room space available inside your house, then your garage may be the perfect space to create a Man Cave. Get started now in preparing your garage space and check out Man Cave Boutique to outfit your Man Cave with all of the essential Man Cave products. Don't forget to add your personal preference and style to create your very own unique Man Cave space !